Airless Tires Poised to Enter Commercial Trucking Market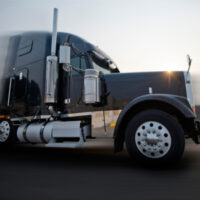 Tire blowouts consistently rank is one of the most costly problems for the commercial trucking industry. Since trucking companies and their drivers are responsible for maintaining the tires of their vehicles in good working condition, they can be responsible when a tire blows out. In
But engineers at Bridgestone are hoping to change all that by introducing a new airless tire to the commercial trucking industry. These tires would be fitted to trailers and since they do not have air in them, they would never blow out.
While there is a great deal of excitement surrounding airless tires, they are not currently available on the market and are still in the developmental stage. However, you could see them much more frequently in the years to come and this bodes well for truckers, trucking companies, consumers, and other drivers on the road.
The Hope Surrounding Airless Tires 
Tire blowouts and failure lead to hundreds if not thousands of deaths each year. A large percentage of these deaths involve commercial trucks and tractor-trailers that suffer blowouts on the highway. When a commercial truck suffers a blowout, it becomes that much more difficult for the truck driver to maintain control of their vehicle. The chances that the truck can tip over, veer into oncoming traffic, or end up in a ditch are quite high.
Further, trucking companies and drivers are liable when a vehicle suffers a mechanical failure that results in injury to other drivers. Some drivers are now facing criminal charges all over the U.S. in instances where a mechanical failure resulted in the death of other drivers or pedestrians on the road. These not only include tire blowout accidents but also flying tire accidents and other mechanical failures.
Federal law governs the regulations that require the trucking industry to perform diagnostics on their vehicles before they leave for delivery. In addition, truck drivers are required to perform routine inspections after every 24 hours on the road. Since this is a legal requirement, they can be held both civilly and criminally responsible for failing to do it. But it's also true that these cases aren't prosecuted unless someone is either permanently injured or killed.
If airless tires work the way we all hope they do, tire blowout accidents can be eliminated, and along with them, one of the largest sources of liability for the commercial trucking industry. When a commercial trucking company is hit with a multi-million-dollar verdict or forced to pay a large settlement, the costs get absorbed into the price of shipping. Companies that require commercial trucks to deliver goods are required to pay more and ultimately consumers are required to pay more as well. Nonetheless, lives are ruined by these failures and victims deserve compensation.
Talk to a Tire Defect Attorney Today
If you've been injured in a tire blowout accident, call the Coral Gables tire defect attorneys at Halpern, Santos & Pinkert and let us investigate your case. You may be entitled to recover major damages for your injuries.
Resource:
ccjdigital.com/bridgestone-airless-tire/
https://www.tiredefectattorney.com/new-jersey-man-killed-after-tire-blowout-accident/