Audi Announces Recall Of A3 Models Over Airbag Concerns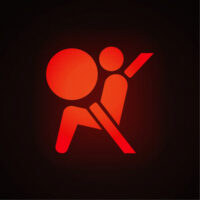 Audi recently announced that it was recalling all of its A3 models from 2013 to 2020 due to concerns over the airbag system. All modern vehicles have a Passenger Occupant Detection System (PODS) which can scan the passenger seat to determine if there is a passenger sitting in it. According to Audi, this system can fail to accurately determine if there is a passenger in the seat and occasionally turn itself off. This can be dangerous in a serious accident.
In vehicles that have the problem, the "passenger airbag off" notice will illuminate regardless of whether or not there is a passenger in the seat. If this warning appears, Audi has instructed customers not to use the passenger seat until the vehicle has been serviced. Nonetheless, the company announced that there have been no injuries or accidents related to this defect.
Second Recall Related to the PODS System 
Audi's PODS system was the subject of an earlier recall for vehicles manufactured between 2015 and 2019. Audi believed it had fixed the problem when customers returned their vehicles to dealerships. However, the new recall includes all the cars that had been previously recalled and serviced while also expanding the number of years included in the recall.
Audi does not currently understand how the problem started. A3 models are no longer in production. If a customer notices that the "passenger airbag off" light is on while they have a passenger in the car, it's probable that the airbag would not deploy in the event of an accident. For that reason, customers who are driving with A3 models should check to ensure that the airbag-off light is not on while they also have passengers in the car.
Failure of a Safety Device 
When an auto manufacturer announces that they have constructed a vehicle with a specific safety feature, any vehicle sold to customers must have a working version of that feature. Further, the U.S. government now places strict requirements on auto safety features. Airbags are standard in all vehicles. If the safety feature were to fail during an accident, anyone injured in the crash would be able to file a claim against Audi. That being said, Audi appears to have caught the problem before it caused anyone injury, so kudos to them for doing the right thing and getting out ahead of the problem.
While a recall is potentially damaging to a company's stock prices and reputation, the hit the company takes is often temporary. In a year of an unprecedented number of auto recalls, Audi can safely hide within the masses. This recall will be forgotten about when the next one is announced. However, customers who have had their vehicles repaired twice for the same problem may not be overly enthused about the news.
Talk to a Florida Defective Auto Part Lawyer 
If a defective auto part contributed to your accident or injuries, you can file a lawsuit against the manufacturer. Call the Coral Gables tire defect attorneys at Halpern, Santos & Pinkert today to schedule a free consultation and learn more about how we can help.
Source:
consumerreports.org/car-recalls-defects/audi-a3-recalled-passenger-airbag-could-be-deactivated/