Chevy Bolts Recalled Over Fire Risk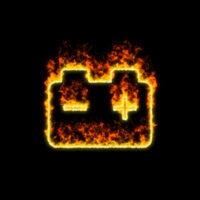 As gas prices soar, one would expect there would be renewed interest in hybrid vehicles and electric vehicles. Unfortunately, these vehicles appear to be having serious issues when it comes to safety. The lithium-ion batteries that power the vehicles have a propensity to catch fire and once that fire is going, it is very difficult to put out.
In late July, Chevy announced the recall of their Bolt model, which is a fully electric vehicle, after reports of two cars catching fire. Bolt owners were asked not to recharge their batteries to full nor allow the charge to dissipate entirely. Chevy announced that they would replace the defective battery modules. The recall does not affect newer-model Bolts with updated batteries. GM has confirmed that there are nine total battery fires emerging from Bolts (that they are aware of). The recall affects the 2017-2019 model Bolts.
Wasn't there already a recall? 
There was a recall related to the software which was originally believed to be the cause of the fire hazard. However, after two bolts caught fire after having their software updated, GM decided it was best to replace the battery module entirely. The announcement comes amid a warning issued by the National Highway Traffic Safety Administration (NHTSA) that Bolt owners should park their vehicles on the street, if possible, and outside of their garages where they can do serious damage.
According to GM, the battery modules themselves have manufacturing defects that can cause the battery packs to ignite under certain conditions. For owners of electric vehicles, battery fires have been a constant threat. Tesla and other model EVs have also shown a propensity for catching fire, often when the car is turned off.
Both GM and LG, who designed the battery modules, are working on solutions to prevent the issue from recurring. They will install new battery modules for any vehicle owner with an EV. However, there are concerns that GM and other vehicle manufacturers lack any means of detecting defective battery modules before they're placed in cars.
Lithium-ion battery fires 
Lithium-ion battery fires burn extremely hot and can be very difficult to put out. Firefighters dealing with these fires know that just because there aren't any flames shooting out of the vehicle, that doesn't mean it won't ignite again. When they catch fire inside of a garage or close to a home, the chances are very good that the house can catch fire and hurt anyone inside. Lithium-ion lawsuits related to house fires are among the most common filed against auto companies specializing in EVs. The 2020 Bolt model has yet to experience any of the same issues earlier models faced.
Talk to a Florida Auto Parts Liability Lawyer Today 
The Coral Gables tire defect lawyers at Halpern, Santos & Pinkert file lawsuits on behalf of clients injured by defective vehicles, defective auto components, or defective tires. Call today to schedule a free consultation and discuss your injuries in more detail.
Source:
driving.ca/auto-news/driver-info/gm-issues-new-recall-for-nearly-69000-chevrolet-bolt-evs-for-fire-risks