Corvette Owner Sues Over Defective Wheels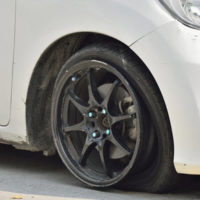 A number of owners of 7th generation Corvettes are experiencing problems with their wheels. According to lawsuits that have been filed, owners have taken their cars into the shop to replace rims only to find that those rims had been bent. Some of these drivers, upon taking their complaint to GM under the bumper-to-bumper warranty were turned away and told that they caused the damage related to the repairs. GM claimed that the rim damage was related to driving over potholes or other driver error. Those who escalated the complaint were offered partial compensation related to the damage on their car. Now, they're taking their case to court. So what happened?
Lawsuit Filed Alleges GM Knew About Wheel Problem 
According to dissatisfied customers, GM was aware that there had been numerous complaints related to the post-2015 Corvette Z06 models. Now, these plaintiffs have been awarded a class. The class-action lawsuit alleges that defects in the wheel caused damage to the car and that this damage had the potential to cause serious safety problems on the road. The lawsuit claims that certain C7 rims were prone to cracking, warping, and bending at very low mileages.
An NHTSA (National Highway Traffic Safety Administration) complaint detailed that these models of Corvettes were prone to vibrating at highway speeds. Additionally, there was some indication that the stiffness of the tires that came with the Corvette were causing the relatively weaker wheel to bend and warp.
To date, GM, which has fielded several complaints thus far concerning the quality of wheel has refused to admit that the wheel is defective. The lawsuit seeks to force GM to issue a recall and notify those who purchased Corvette Z06 models over the past four years about potential problems that could impact their safety. The lawsuit also asks that GM financially compensate affected drivers for any out-of-pocket expenses they incurred in order to replace the wheels. Until that happens, however, buyers are forced into the position of repairing the damage themselves.
How Dangerous are These Corvettes? 
It's difficult to guess without more details, but one could speculate that if the rims and wheels are warping at a few thousand miles, it could easily cause a number of potentially fatal problems. If the tire were to blow out at high speeds or unlatch from the car you'd have a driver who was no longer in control of their car. Sports cars are much lighter than other types of vehicles. That's because they're built for racing. Their engines are lighter, their bodies are lighter, and their engines are more powerful. A lightweight car blowing out a tire at a high speed can easily result in the death of its driver. GM is playing a dangerous game by not issuing the recall voluntarily. If a wrongful death action is filed against GM, they will likely be hit with punitive damages because they knew the part was defective and they elected to do nothing about it.
Injured by a Defective Tire? 
The Coral Gables tire defect attorneys at Halpern, Santos & Pinkert have the experience you need to file a cause of action against a tire manufacturer. Talk to us today for a free consultation.
Resource:
jalopnik.com/corvette-owner-sues-general-motors-over-allegedly-defec-1834675372
https://www.tiredefectattorney.com/tesla-model-s-explodes-in-shanghai/