Exploding Tire Kills Kentucky Man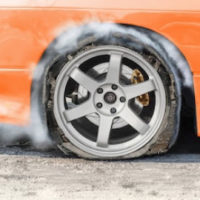 In late April, a Kentucky man died in what investigators termed as a 'freak accident'. Forty-seven-year-old Donald Belcher, who worked at Elkhorn Truck Parts and Service, was removing the tire from a commercial vehicle when the tire exploded in his face. The tire was mounted on a two-piece rim which has caused a number of serious injuries and deaths throughout the U.S. These tires are notoriously dangerous and prone to explosion. For that reason, they are called "widowmakers".
Split-Rim and Multi-Piece Wheels (AKA Widowmakers) 
Unlike many of the tire failures we cover in our blogs, these tires injure mostly the mechanics who tasked with installing them. However, because the failures associated with these tires have occurred numerous times and because the explosions can be so forceful, mechanics have lost limbs, suffered permanent disfigurement and even died during "freak accidents" like the one mentioned above. Additionally, these tires have been known to explode on the road causing trucks to capsize and their drivers to sustain serious bodily injury.
As a result of these risks, split-rim wheels have been largely discontinued and replaced by safer alternatives. However, there are still some older trucks that require the use of split-rim multi-part tires and, as you can see, they are still taking lives years after a safer alternative has been found.
The trouble comes into play when the locking rim separates from the wheel's base. There are two locking rims on either side of the base and the tire is designed to fit in between them. When the tire fails, there is a violent release of pressure that not only causes an explosion strong enough to upend a man, but it throws various forms of shrapnel at point blank range. Since the tires are usually placed on the rims with the worker hovering over the tire, the force of the blast is absorbed by the worker's torso. The risk of death is high.
These tires can still be found on military trucks, forklifts, cranes, and other large heavy-duty vehicles. There are two types of assemblies: divided wheels and multi-piece wheels. In response to numerous fatalities, OSHA began requiring that cages be used when mounting tires. This did not, however, completely prevent explosions from occurring.
How Split-Rim Tire Cases are Litigated 
The problem in a case like this is determining how long the manufacturer can be held liable. For instance, when these tires first started exploding in people's faces, the manufacturer was responsible because they failed to warn those who would be installing them about the potential danger. However, once that was established, where would a lawsuit go from there? Since the tires are working as designed, the attorneys for the plaintiffs would need to establish that the tire was intrinsically defective. However, they would also have to establish that a safer alternative existed somewhere. Today, that's true.
Talk to a Tire Defect Lawyer Today 
If you've been injured by a defective tire, the Coral Gables tire defect attorneys at Halpern, Santos & Pinkert have the experience you need to successfully litigate your claim against the tire company. We have secured multimillion-dollar settlements and verdicts for our clients and can do the same for you. Talk to us today for a free consultation.
Resource:
wsaz.com/content/news/Tire-explodes-and-kills-man-in-Pike-County-Ky-509113091.html
https://www.tiredefectattorney.com/michelin-xdr-3-surface-mine-haul-tire-protects-against-overheating/