Flying Tire Kills Deputy, Causes Pile Up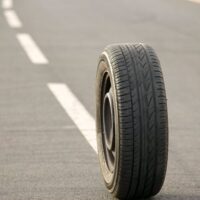 A flying tire killed an LA County deputy after the tire struck his Volvo. Another deputy was seriously injured in a related crash. The tire, which was linked to a Toyota Tundra, caused a pile-up on the LA freeway as more cars became involved in the crash. Once the tire struck the deputy's Volvo, it began trundling down the road where it struck another vehicle. The driver of that vehicle was injured when he exited his car, and his car was struck from behind by another vehicle. The driver, another LA County deputy, was taken from the scene with serious injuries. The sheriff's department said that the deputy "faces a long road to recovery."
Understanding flying tire accidents 
Flying tire accidents are always the result of someone's negligence. Essentially, the tire comes off the vehicle because it hasn't been fastened properly. An alarming number of flying tire accidents occur directly after a vehicle has been serviced. In a large number of cases, the flying tire can be directly linked to a commercial vehicle. In this case, the tire came off a Toyota Tundra, which might have been a commercial vehicle, but nowadays, folks are buying pickups for recreational purposes.
Regardless of whether or not the vehicle is owned by a company or an individual, the owner is responsible for ensuring that the vehicle is in roadworthy condition prior to taking it out of the garage. In cases where a tire flies off a vehicle and plows through someone's windshield, the chances that they will survive the incident are low. Hence, the stakes are quite high. While flying tire accidents appear on the surface to be random occurrences or freak accidents, they are also quite preventable.
Usually, there are only two likely negligent parties. That would be the owner of the vehicle or the company that was paid to service the vehicle.
Flying tire accidents and criminal charges 
We're seeing a lot of criminal charges faced by truck drivers in states like Texas. Truck drivers are being hit with manslaughter and negligent homicide charges for losing tires on their vehicles that strike and kill another individual. This is largely because commercial truck drivers are required to inspect vehicles on a 24-hour basis, especially their tires. Further, inspections are required directly prior to leaving for delivery. In other words, the law sees no basis for a defense against an accident that could have been prevented just by following the law. It isn't clear that the driver of the Tundra will face charges related to this accident, but an investigation will ensue, and if the driver was the last one to service the tire, then the driver can face charges for the accidental death of the deputy and the severe injuries suffered by the other deputy.
Talk to a Florida Defective Tire Attorney Today 
Flying tire accidents are almost always due to the negligence of another party. The Coral Gables tire defect attorneys at Halpern, Santos & Pinkert help injured plaintiffs recover damages related to auto part failures. Call today to schedule a free consultation and learn more about how we can help.
Source:
nbcnews.com/news/us-news/los-angeles-county-deputy-killed-flying-tire-freeway-n1262600