GM Announces Recall of 840k Vehicles Due to Suspension and Seat Belt Issues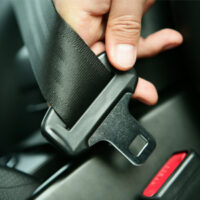 GM recently announced the recall of around 840,000 vehicles due to either suspension problems or because the seatbelts can fail. The seatbelt recall is the larger of the two accounting for 624,000 of the 800,000 recalled vehicles.
Vehicles recalled for seatbelt issues include:
2019 through 2021 Chevrolet Silverado 1500
2019 through 2021 GMC Sierra 1500 pickup trucks
2021 Chevrolet Suburban
2021 Tahoe
2021 GMC Yukon XL,
2020 and 2021 Silverado 2500
2020 and 2021 GMC Sierra 2500 and 3500
The seatbelt recall is related to split-bench seats. Vehicles with bucket seats are not affected. GM says that the seatbelt brackets may not have been assembled properly causing them to be improperly secured to the seat frame. The belts could malfunction in an accident, GM said, but thus far, there have been no injuries or accidents reported due to the seatbelts. Owners will be notified on February 1st. GM dealerships will inspect the seatbelt assembly and reinstall the seatbelts, if necessary.
The Suspension Recall
The suspension recall is related to salt corrosion in so-called "salt-belt" states. This includes the vast swath of Northeastern states that get heavy snow and need to salt the roads to provide traction for drivers. According to GM, exposure to salt can prematurely corrode the suspension causing failure. The following vehicles are impacted by the problem:
2012 and 2013 Buick Regal
2013 Chevy Malibu
2010 – 2013 Buick LaCrosse
According to GM, salt can cause the protective coating of the toe links to rust and fail. GM also reports that there have been no accidents or injuries related to this defect. Those who drive the affected vehicles will be able to bring their vehicle to the dealership to get the toe links replaced. Owners will be notified on February 15 and a second notice will be delivered in March when the parts are ready to install.
Seatbelt Lawsuits
Seatbelts have saved millions of lives throughout the years. Most states now require that drivers wear them while they're driving. However, the illusion of safety is a terrible danger. Drivers who click their seatbelts on have a reasonable expectation that they'll still be in their seat if they get into an accident. If they aren't, and the seatbelt can be proven to have malfunctioned, the car manufacturer is liable for their customer's injuries.
Talk to a Florida Defective Auto Parts Attorney
Did a defective auto part contribute to your injury? If so, you are entitled to file a lawsuit against the company that manufactured the part and the company that distributed the part with their vehicles. Call the Coral Gables tire defect attorneys at Halpern, Santos & Pinkert today to schedule a free consultation and learn more about how we can help.
news4jax.com/news/local/2020/12/23/gm-recalls-840k-vehicles-for-seat-belt-suspension-problems/
https://www.tiredefectattorney.com/gm-recalls-200000-vehicles-for-fire-risk/