GM Sued for $100 Million Over Defective Tire Pressure System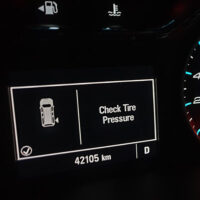 General Motors is facing three wrongful death lawsuits all connected to a defective tire pressure monitoring system and wheel issues. According to the plaintiffs, GM knew about the TPMS defect and failed to issue a recall. All three plaintiffs hail from Texas where the lawsuit has been filed.
According to the lawsuit, the plaintiffs were headed south when the accident occurred. A GMC Yukon headed north sustained a tire blowout, veered into oncoming traffic, and struck the plaintiff's vehicle head-on. The plaintiff was driving with her two daughters and three grandchildren when the accident occurred. The driver and two of her grandchildren died in the accident. All of the passengers sustained injuries characterized as catastrophic, including those in the Yukon.
Products liability lawsuit 
The plaintiffs have filed a products liability lawsuit against GM for the defective tire pressure monitoring system and wheel problems that caused the tire to blow out prematurely. A further element of this lawsuit contends that GM knew about the issue and then failed to issue a recall. If that allegation turns out to be true, GM can be on the hook for willingly suppressing information that led to the deaths of their customers. When you see multi-billion dollar settlements against companies, it's largely because they actively derailed the process of taking dangerous vehicles off the road.
More plaintiffs? 
It would be extraordinarily difficult to prove that GM "knew" about a design defect in their vehicle that only had a single accident to its credit. In cases where companies have been driven into the ground by mass torts, there was a double-digit death toll traceable to a single defect that the company knew about. In these cases, the company settled personal injury lawsuits alleging wrongful death with confidentiality agreements. It took years before the federal government was able to establish that there was a pattern, what the pattern was, where the defect was, and whether or not the company knew about it.
More plaintiffs alleging that a defective TMPS system failed to warn them concerning a deflating tire that blew out and caused an accident, or that the wheel itself is contributing the loss of air and the failure to report the problem to the onboard system, could be exactly the sort of circumstances that lead to a multi-billion-dollar settlement or verdict.
Such lawsuits are complex because they deal with mechanical issues. For GM, the defense will be to say that the driver contributed to mechanical problems that caused the accident. A jury will decide if there is a design flaw in the TPMS and wheel or operator error caused the mechanical failure.
Talk to a Florida Defective Auto Part Attorney 
The Coral Gables tire defect attorneys at Halpern, Santos & Pinkert can help you file complex product liability lawsuits against huge corporations. Call today to schedule a free consultation and discuss your injuries in more detail.
Source:
carcomplaints.com/news/2021/gm-sued-for-100-million-fatal-gmc-yukon-crash.shtml