Goodyear Forced to Pay $33 Million in G286A Lawsuit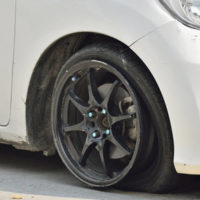 Goodyear was forced to pay $33 million following the death of Ramiro Munoz. Munoz, who worked as a teacher and city manager in Carrizo Springs, Texas was killed in 2013 when his car was hit head-on by a cement truck fitted with a Goodyear G286A "Super Single" that had blown out.
This isn't the first time defect tires on cement trucks have made the news. In October of last year, a jury awarded $11.7 million to a New Jersey woman after a Bridgestone L315 retread blew out causing permanent injuries to both herself and her daughter. In March of last year, esteemed local lawyers Halpern, Santos, & Pinkert (that would be us) won a $38 million verdict over Hankook when a tire blowout caused a cement truck to capsize leaving the driver a quadriplegic.
This begs the question: Are cement truck tires intrinsically dangerous?
Cement Trucks are Very Heavy
Among the trucks required to carry the heaviest loads are cement trucks which need to be able to haul several tons worth of cement still in its liquid form. While the vast majority of the tires made for that purpose will work just fine, the exceptional weight of the truck itself will expose defects in tires that should have never been entered into the stream of commerce. Quality control mechanisms are key here because tires will have manufacturing defects but companies are responsible for spotting defective tires and preventing them from causing serious injury. When they don't, they destroy people's lives and thus responsible for compensating them.
Goodyear especially has had problems in this regard. Reports have shown that specific factories have produced more defective tires than others and this could be related to the pace at which these factories churn these tires out. One factory in Dansville, Virginia has been the target of several such complaints. According to employees and former employees, management told workers to operate at a very fast pace and may have forgone safety considerations concerning both their staff and their tires.
Lawyers for the plaintiff were able to trace that tire back to the Dansville factor and then produced evidence that the factory workers were under pressure to produce tires as quickly as possible. This was enough to convince the jury that Goodyear was negligent in the death of Mr. Munoz and they compensated him to the tune of $33 million.
Goodyear Employees Provide the Backbone for Plaintiff's Case 
It was Goodyear employees who provided much of the evidence that the plaintiff's attorneys needed to make their case. Those brought to the stand testified that they were encouraged to produce tires as quickly as possible and this policy led to a number of complaints against Goodyear.
Talk to a Tire Litigation Lawyer Today 
The Coral Gables tire defect attorneys at the office of Halpern, Santos & Pinkert have the litigation and tire experience you need to win your case over a major tire manufacturer. Typically, the tire manufacturers will blame you or some other road condition to explain why their tire malfunctioned. Our attorneys use our experience to prevent that from happening. Give us a call to set up a free consultation today.
Resources:
carcomplaints.com/news/2019/goodyear-tire-lawsuit-ends-in-33-million-jury-verdict.shtml
marketwatch.com/press-release/major-settlements-117m-combined-injury-verdict-add-to-record-tire-tread-defect-recovery-2018-10-03
images.law.com/contrib/content/uploads/documents/392/16378/Hankook-verdict.pdf
https://www.tiredefectattorney.com/liable-parties-in-tire-blowout-lawsuits/