Goodyear Tapped for $6.7M in Exploding Tire Wrongful Death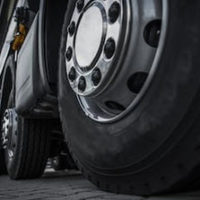 Tire blowouts on the road aren't the only reason for lawsuits against tire companies. When New Orleans truck driver tried to inflate the tire on his garbage truck, the tire exploded, killing him. According to the complaint, a "zipper failure" occurred. This is the name of a long sidewall rip with exposed metal reinforcement. The trucker, Elwood Breux Jr., was immediately taken to the hospital but died 28 days later of his injuries. Breux's employer was also reimbursed for damages related to paying his workers' compensation.
Failure to Warn Lawsuits
Product liability lawsuits come in three varieties. Those are manufacturing defects, design defects, and failure to warn lawsuits. In this case, the plaintiffs argued that Goodyear failed to warn customers about the potential dangers of reinflating an unpressurized tire. It is expected that those who produce products have a duty of care to ensure that their customers are not injured by situations that could have been avoided by informing them prior.
Exploding Tire Lawsuits
Tires that explode while being inflated are not necessarily new. Many split-rim tires that were engineered for large commercial delivery trucks, tractor-trailers, dump trucks, cement trucks, and garbage trucks are notoriously dangerous to bead. In fact, OSHA regulations dictate that these tires be inflated in specially made cages to prevent them from doing serious damage to nearby workers.
While this was not a bead failure, the incident good have been prevented had Goodyear took the time to warn their customers concerning the dangers of inflating an unpressurized tire. In this case, the ensuing explosion proved fatal and a family was deprived of a husband, father, and son.
Sidewall Zipper Failures
Sidewall zipper failures happen during the process of inflation. For those who are inflating the tires, there is virtually no way to predict that an explosion will occur. During inflation, the sidewall faces a catastrophic failure and explodes. Whoever is inflating the tire along with anyone in the general vicinity is in grave danger.
This type of tire failure is known as a "zipper failure" because of the way the tire looks directly after the explosion. While this has been a well-known problem that has led to several injuries and deaths, the tire industry has not taken any proactive measures to prevent zipper failures. In some cases, companies have issued vague warnings.
Zipper Failure Lawsuits
Zipper failure lawsuits generally focus on what the tire industry (or company) has or has not done in order to prevent zipper failure explosions. So long as companies like Goodyear fail to take the matter seriously and only issue vague warnings that leave mechanics and drivers in the dark about what they can do to prevent serious injury, lawsuits like this will continue. On the other hand, each lawsuit represents a life-altering injury or death that impacts a real person and their family. Hopefully, the tire industry will devote more effort into researching zipper failures in the future.
Talk to a Tire Litigation Attorney Today
If you've been injured by a defective tire, the Coral Gables tire defect attorneys at Halpern, Santos & Pinkert can help you recover damages related to your injuries. Talk to us today for a free consultation.
Resource:
usatoday.com/story/money/cars/2019/09/18/exploding-tire-death-lawsuit-goodyear-ordered-pay-6-7-million/2369218001/
https://www.tiredefectattorney.com/why-do-tires-blowout-on-large-trucks-more-frequently/