How Many People Die Each Year Due to Tire Blowouts?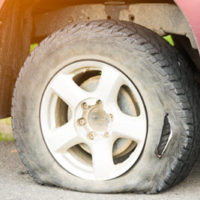 In an age where it's become commonplace to compare things to the coronavirus, is it also possible that tire blowouts cause more deaths than the virus? The answer, as a matter of fact, is no.
Each year, there are roughly 78,000 crashes related to tire blowout accidents. Roughly 400 of those individuals will die in accidents related to tire blowouts. These individuals usually experience the tire blowout while they're driving on highways. It's also true that large commercial trucks, like tractor-trailers, are implicated in a number of the tire blowout accidents you see.
Why is that?
Why Tractor-Trailers Cause the Most Tire Blowout Accidents?
Large commercial trucks are expected to travel great distances at high speeds. They have numerous tires on their vehicles and each one is expected to operate correctly in order to ensure that the driver and others on the road are safe.
When a tire on a semi-truck blows out, the tendency of the driver is to pull the wheel back in the opposite direction that it's pulling while slamming on the brake. This often ends up being a fatal choice as the massive truck swerves into other lanes and across medians eventually causing a fatal accident. The truck can turn over, jackknife, or veer into oncoming traffic. This not only puts the truck's driver in danger but everyone else sharing the road with them as well.
There Should Definitely Be Fewer Tractor-Trailer Blowouts
Tractor-trailer companies and drivers are held to a much higher standard than commuters with whom they share the road. Commuters can be held liable when a mechanical defect results in an accident that causes injury. But since tractor-trailer drivers are required by federal law to perform routine inspections on their vehicles after every 24 hours of driving, tractor-trailer drivers can be held both civilly and criminally liable if their inattentiveness to their vehicle results in a death or serious injury. In addition to routine 24-hour inspections, all trucks are required to be inspected before they leave for a delivery.
So when a truck driver or the company they work for fails to adequately perform an inspection and misses something that they should have caught, they can absolutely be held liable by both the criminal and civil justice systems.
Defective Tire Lawsuits
Some number of the more than 78,000 tire blowout accidents that happen each year are directly attributable to faulty or defective tires. In these cases, some flaw in either the design or manufacturing of the tire led directly to the blowout which caused the accident. With so many possibilities on the table for contributions made to a tire blowout accident, it can be difficult (though not impossible) to determine what precisely caused the accident. Yet tire liability lawyers like Halpern, Santos, & Pinkert have experts on staff who could investigate the accident and the tire itself to determine what the cause of the accident was.
If you've been involved in a tire blowout accident, call the Coral Gables tire defect attorneys at Halpern, Santos & Pinkert and we can determine who is responsible for the accident.
Resource:
nhtsa.gov/equipment/tires
https://www.tiredefectattorney.com/passenger-dies-after-tire-blowout-in-pickup-truck/