Motorcycle Tire Blowouts in the News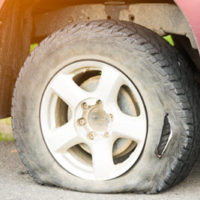 Cape Coral resident, Steven Morris, was riding his motorcycle with his wife Patricia on the back when his tire blew, killing his wife. Steven's story is not unique. The blowout that occurred in 2008 involved a Dunlop 402 tire manufactured by Goodyear. At least four others have lost their lives due to blowouts involving this tire bringing the death toll to five. Twenty-two have been injured.
This isn't the first time that Goodyear has had a problem with one of their tires. The G159, which was developed for urban delivery trucks, found its way onto RVs with disastrous results. The tire failed on numerous occasions and is linked to ten deaths and 98 injuries. Goodyear never issued a recall despite settling numerous lawsuits and multiple NHTSA investigations against them. Neither have they issued a recall for the Dunlop 402.
Why Hasn't the NHTSA Intervened? 
There are multiple theories on why the federal regulatory agencies that are supposed to oversee and regulate products that enter the stream of commerce have no intervened. The range from the downright cynical to the philosophical. The most cynical among us would likely claim that the NHTSA only functions to give the appearance of oversight and consumer safety. This claim wouldn't be far from the truth. The NHTSA is one of the most underfunded divisions within the federal regulatory branches. It does not have broad resources to force major companies like Goodyear to issue recalls against their will and they certainly don't have the bottomless resources of a company like Goodyear. So, there is a question as to whether or not the NHTSA could step in even if they wanted to and whether or not they'd be demolished in court if they did.
There is also always going to be a question of government overreach harming U.S. commercial interests. The federal government does not want to find itself in a position of compromising good-paying U.S. jobs.
Lastly, there is a question as to whether or not these matters are better handled by the tort system. In a recent case that has garnered national media attention, the State of Oklahoma is suing Johnson & Johnson under a public nuisance doctrine for its allegedly fraudulent marketing of their drugs to doctors. The state will attempt to recoup costs related to addiction. Meanwhile, thousands of individuals who have filed claims against opioid manufacturers will have to wait until this trial is over. The opioid manufacturers will claim that they are being hit twice with fines, levies, and damages related to the sale of their drugs. While it's hard to have any sympathy for them, there are jobs at stake.
Meanwhile, consumers and victims of the tires find themselves in a position of initiating costly litigation against the companies that are potentially responsible for their own life-altering injuries and the deaths of their loved ones.
Talk to a Defective Tire Attorney Today
 If you've been injured because of a tire blowout, talk to the Coral Gables tire defect attorneys at Halpern, Santos & Pinkert to set up a free consultation. We can help.
Resource:
hrevealnews.org/article/fatal-motorcycle-tire-blowouts-not-enough-to-prompt-goodyear-recall/