Nail Blamed for Tire Blowout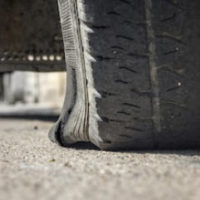 An East Carolina student is dead after police say that a stray nail caused a fatal tire blowout in December. The student, Mariah Moore, suffered a tire blowout that caused her to lose control of the car. The car swerved into oncoming traffic where it was struck head-on by another car. Police say that it appeared that the young woman had driven a considerable distance with the nail in her tire. Eventually, it resulted in a catastrophic blowout at a high enough speed that she completely lost control of the vehicle. The other driver, Morgan Taylor had to be airlifted to a nearby hospital for treatment but she is expected to recover. A driver who witnessed the crash says that he saw smoke coming from the rear portion of Moore's car and, as it passed, the car fishtailed and the accident ensued.
Will Anyone Be Sued? 
In a case like this, the first thing that you would wonder about is whether or not the driver, Mariah Moore, had a newer car that would indicate her tire pressure was rapidly dropping on one tire. In the event that she did have such a car and neglected to do anything about it, she would be responsible for the accident. If a driver notices that one of their tires is rapidly losing pressure, they should pull over to examine the problem and call a tow truck if they have to. Driving on a tire that is rapidly losing pressure is a recipe for a serious accident and the tire company would not be responsible for it.
Modern tires are quite durable when it comes to withstanding road hazards. In this case, the nail was stuck in the tire for an extended period of time before a blowout occurred. Had anyone noticed the nail was there, it probably could have been safely removed from the treads and, not only would this accident have never occurred, but the tire would have been salvageable as well.
It's hard to imagine anyone driving on a tire in which there was a nail stuck for an extended period of time as the nail dug its way deeper and deeper into the tire. Nonetheless, that is exactly what the police believe happened in this case. It's hard to imagine not being able to feel the friction such a nail would cause when driving, particularly at higher speeds.
If, as we suspect, the police officers are correct in their investigation of the accident, then Mariah Moore could be held posthumously liable for the accident. As difficult as it is to blame someone whose mistake resulted in such a tragedy, there are other people that were injured in the accident and they could have potentially died.
Talk to a Tire Safety Tips Lawyer 
The Florida tire safety tips attorneys at Halpern Santos & Pinkert have successfully litigated tire liability claims against major manufacturers and negligent drivers recovering millions for our clients. Give us a call or talk to us online to set up a free consultation today.
Resource:
witn.com/content/news/Woman-killed-after-blown-tire-causes-head-on-crash-502478881.html