New Vehicles From Multiple Manufacturers Recalled Over Child Safety Risk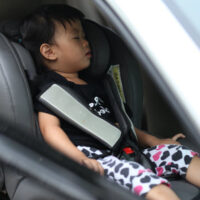 The owners of several newer-model Volkswagens, Nissans, Mitsubishis, Fords, BMWs, and Audis have been asked to bring their vehicles back to their dealerships to repair an issue that makes it difficult to install a child safety seat. The problem is related to the ALR (automatic locking retractor) which is the mechanism that responds to an accident. If you've ever wondered why your seatbelt locks when you're braking, but not at other times, it's the ALR doing its job properly.
Parents rely on tight belts to keep their children secure in their safety seats. The wrong kind of collision could send a small child through the windshield or rattle them around inside of the vehicle. According to a spokesperson for BMW, those with affected models can bring their vehicles down to the dealership. It will take about an hour to fix. The spokesperson said child safety seats can still be safely installed in these vehicles, but require latch anchors to ensure the seat does not move during a collision.
Understanding the problem 
Autoliv, a major seatbelt supplier, admitted that there was a manufacturing defect in one of their seatbelt models. The defective seatbelts were produced at an Autoliv factory between October of 2020 and January of 2021. Due to a faulty lever, the ALR can unlock even after it has been locked to secure a child safety seat. Over 260,000 ALRs need to be replaced.
According to the company, only the front passenger seat has a potentially dangerous ALR. The back seats are still safe for children.
Front seats, child safety seats, and personal injury lawsuits 
There are no reported injuries from this manufacturing defect, but one can imagine how a personal injury lawsuit would play out. If a plaintiff comes to court alleging that their infant was severely injured or even killed in an auto accident, both the manufacturer of the car and the manufacturer of the safety belt would be named in a lawsuit. The defendants would counter the allegations by saying that parents should never place child safety seats in the front anyway. Having done so against recommendations, they bear at least some of the blame. Nonetheless, if a safety belt was defective for a specific purpose, the company would be expected to (at the very least) warn customers of the problem. Absent a warning to customers, the auto manufacturer, and the seatbelt manufacturer would be liable for any injuries caused.
Talk to a Florida Defective Auto Parts Attorney Today 
When a vehicle has a dangerous manufacturing defect that causes a key component to fail, the auto company and the company that negligently manufactured the device are liable for any injuries caused. The Coral Gables tire defect attorneys at Halpern, Santos & Pinkert can help you recover damages related to your medical expenses, lost wages, and reduced quality of life. Call today to schedule a free consultation and learn more about how we can help.
Source:
consumerreports.org/car-recalls-defects/newer-cars-recalled-to-improve-child-car-seat-safety-a1163035457/