Pennsylvania Man Dies in Tire Blowout Accident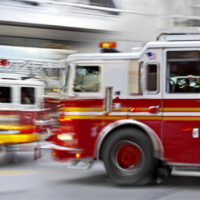 Brandon Deeck, a 24-year-old man from Pennsylvania, died after his pickup truck suffered a tire blowout on the highway. State police determined that the cause of the accident was tire failure.
Deeck was hauling a trailer with a boat on it when the accident occurred. His pickup ran off the roadway and onto the left shoulder when it struck a roadside, careened down an embankment, struck several trees, and then turned over. Deeck was thrown from the vehicle and died at the scene.
Why are Pickup Truck Blowouts So Common?
In case you're wondering, the four most common causes of tire failure when it comes to pickup trucks has nothing to do with tire manufacturers or tire defects. Three of the top four reasons are directly related to improper maintenance on the vehicle or tire. The other most common cause is road debris, potholes, or other road hazards.
Improper maintenance – An individual who drives any commuter vehicle is responsible for ensuring the vehicle is roadworthy when they leave their property. This includes ensuring that their tires are up-to-date and the treads are still under warranty. Tires should be replaced once every six years. But for pickup trucks, especially those that haul and tow, checking the treads for wear and tear periodically could save your life.
Overloading the trailer – Every truck is rated for a certain amount of tonnage. But most vehicle drivers don't set about weighing their trailers prior to taking the road. This results in a situation where there is too much pressure on the tires. While most tires won't blowout on your first trip out to the marina, overloading the trailer can result in too much pressure on the tires. This causes the sidewalls to weaken and the treads to wear out more quickly. It also, in some situations, can lead to an immediate blowout.
Small leaks – Small leaks occur generally because of a puncture somewhere in the tire. These leaks should be patched immediately once they are discovered. Failure to do so can result in a serious tire blowout while you are on the road, and often, these accidents are fatal.
When is the Tire Manufacturer Responsible?
The tire manufacturer is only responsible in three situations. Those are:
When the design of the tire makes it dangerous for its express intended purpose
When a manufacturing defect results in a dangerous tire
When the manufacturer fails to disclose some potential danger that can occur through typical use of the tire
Tire manufacturers do sometimes cut corners to increase production. In other cases, the tire may have been sold in a market for which it wasn't originally intended. In other cases, quality control problems result in defective tires. If any of those are the case in your accident, you may be able to hold the tire company accountable for your injuries.
Talk to a Tire Defect Attorney in Florida 
If tire failure was implicated in your accident, you can file a lawsuit against the tire manufacturer, the other driver, or a maintenance shop that may have contributed fault to the accident. Call the Coral Gables tire defect attorneys at Halpern, Santos & Pinkert today to learn more.
Resource:
nj.com/gloucester-county/2020/06/tire-blowout-causes-fatal-crash-on-route-55.html
https://www.tiredefectattorney.com/mustang-owners-suing-ford-over-defective-manual-transmission/