State Of Louisiana Rejects Goodyear Appeal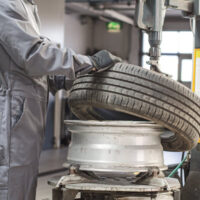 The State of Louisiana has rejected an appeal filed by Goodyear to reconsider a $7 million verdict against the American tire company. According to the plaintiff's counsel, the client died when a G182 exploded during a "zipper failure" incident. Beading tires can be dangerous, especially when the tires are multi-piece tires. Those who work around them use cages to safely inflate the tires. The plaintiff was a mechanic who was fitting the tire to a vehicle. Goodyear was held liable for the explosion and the jury awarded the plaintiff $7.2 million. Goodyear appealed the verdict during which an additional $1.7 million accrued in interest. The family's recovery has thus far raised $8.9 million. The Louisiana State Supreme Court declined to take Goodyear's appeal. Goodyear is now out of appeals.
Understanding the lawsuit 
Exploding tires happen and those who work around them are generally instructed to employ specific safety measures to avoid serious injury and death. While the force of the explosion is not exactly Hiroshima, it's strong enough to bend and warp the metal cage employed to avoid death and injury. The blast exerts more force than your average pipe bomb. In this case, Goodyear was found negligent on the basis that they failed to warn those who would be working with the tires about potential dangers related to the tire. A federal judge ruled that Goodyear had not properly carried out its duty to warn others about the safe beading of the tire.
The plaintiffs were further able to prove that Goodyear knew about potential "zipper failures" related to the tire and still failed to provide adequate warning.
Duty of care 
The law imposes specific responsibilities on consumer companies that place products into the stream of commerce. If a product can become dangerous, and there is no way to avoid that danger, the company must warn those who are working with the product to ensure that they do not injure themselves. In this case, the court found that Goodyear failed to make customers and those working with the tires aware of the potential defect and had an obligation to under the law. While the law requires this of Goodyear, there are no consumer product police who will necessarily make certain that every product has a detailed explanation of every potential danger. It's only after a tragedy occurs that we compare Goodyear's actions to the industry requirements. It's only because someone is injured that Goodyear is held responsible at all.
Talk to a Florida Tire Defect Attorney Today 
If you've been injured due to a defective tire or any other auto part, the Coral Gables tire defect attorneys at Halpern, Santos & Pinkert can help you recover damages and hold the company accountable for its negligence. Call today to schedule a free consultation and learn more about how we can help.
prnewswire.com/news-releases/louisiana-supreme-court-rejects-goodyears-appeal-of-7-2m-tire-defect-verdict-301406892.html