Takata Consultant Warns "Millions" of Cars Have Defective Airbags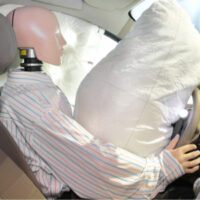 Since the early part of the 2000s, when we were still grieving the trauma of 9/11, a story made headlines that undergirded the depths of corporate greed. Japanese autoparts manufacturer Takata supplied airbags to all of the major auto manufacturers in Japan and the United States. These airbags had a catastrophic defect that would cause them to explode in the faces of drivers under certain conditions. Specifically, a risk factor for an exploding airbag was the humidity of the climate.
Takata knew about this problem long before it made national headlines. In fact, they'd settled several lawsuits ranging from wrongful death to severe and life-altering injuries to the face and head. These lawsuits were signed under seal, meaning that plaintiffs could not discuss the details of the settlement with the press or anyone else for fear that the defendant may pull the deal. This allowed Takata to continue selling defective airbags to auto manufacturers resulting in more injuries and deaths.
Once a lawsuit was brought against Takata, details were revealed about what Takata knew and when they knew it. It was discovered that Takata had first-hand knowledge of the defect going back several years. They did not report it, nor did they issue a recall. This left 80 million vehicles with life-threatening defects. Around 63 million vehicles have been recalled since 2000 to replace the defective airbags.
Takata Consultant Says Millions of Vehicles Still Have Defective Airbags 
Recently, a former consultant for Takata warned that there are at least 12 million vehicles still on the road today with defective Takata airbags that could explode in the faces of their owners without warning. These vehicles may be driven by owners who purchased the car second-hand or never bothered to take their vehicle to the dealership to have the airbag replaced. In some cases, drivers may have never received the recall notices.
Jerry Cox was among the Takata employees who warned the brass that the airbags were potentially deadly. He also said his advice fell on deaf ears. After trying and failing to get Takata executives to listen to his complaints, Cox realized that the company's days were numbered and parted ways.
Former employees had a major hand in taking Takata down. Cox left the company in 2014 and told the press that Takata had suppressed evidence that their inflators were defective. Takata responded that they never suppressed any evidence related to defective inflators. However, three years later, Takata pleaded guilty to fraud and was hit with a class-action that awarded plaintiffs billions in damages.
Today, Takata exists as a shell company with a trustee who pays out damages to plaintiffs. Takata filed for Chapter 11 after judgments against the company exceeded its assets by a lot of money. Most of its assets have been liquidated.
Talk to a Florida Defective Autoparts Attorney
If you've been injured in a car accident and a safety feature didn't perform as expected, you may be able to recover damages from the manufacturer for your injuries. Call the Coral Gables tire defect attorneys at Halpern, Santos & Pinkert today to schedule a free consultation.
Resource:
wtsp.com/article/money/consumer/former-takata-consultant-warns-millions-of-cars-defective-airbags/67-8ef6bb7a-6691-4adc-85a5-5f910bf52a76
https://www.tiredefectattorney.com/class-action-accuses-audi-of-dangerous-start-stop-system-defect/