The One Billion Trucking Verdict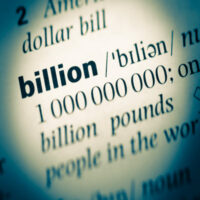 A Jacksonville trucking company was tapped to the tune of $1 billion in a trucking accident lawsuit after the jury awarded the plaintiffs punitive damages. The plaintiff was the estate and family of an 18-year-old man who was stopped in traffic after being struck by a different truck when another truck struck him from behind and killed him. After hearing five days of testimony, a Nassau County jury returned a verdict of $100 million in compensatory damages and another $900 million in punitive damages raising the verdict to $1 billion.
Nuclear verdicts and the trucking industry 
This is probably the largest verdict against a trucking company that we've ever heard of. While nuclear verdicts against trucking companies are on the rise, there is also a renewed understanding of our dependence on logistics when the supply chain was placed under severe pressure due to COVID. These nuclear verdicts all have one thing in common. In each case, the trucking company is alleged to have hired and then failed to train an inexperienced driver. The driver inevitably causes someone injury or death, and then the trucking company gets to whine about how the mean jury ate through all of their profits for the past three years.
Truck #1 
Truck #1, the first truck in the chain of vehicles, was driven by a driver who did not have a CDL and was working past the allowable limit of hours in a row. Essentially, truckers must take breaks every 8 hours and can only drive for a set amount of hours in a week. This fellow was driving over the legal limit of consecutive hours and did not have the license required to operate the vehicle.
Truck #2 
Truck #2 was doing 70 mph on cruise control when the driver failed to account for the traffic that had stopped during the accident. Trucks are very large and much more difficult to control. It takes them a much longer time to reach a complete stop than it does a smaller vehicle. Slamming on the breaks only begins the process of stopping. Hence why truckers are often required to obey different speed limits than the rest of the traffic. The truck was unable to slow down in time once they realized traffic had stopped and slammed into the plaintiff's vehicle, killing him.
Elements of negligence 
These lawsuits are filed under a theory of negligent entrustment. The trucking companies are liable for failing to do their due diligence when hiring truck drivers. In this case, one of the drivers did not even have a CDL, so it was illegal for him to operate the vehicle. His company never even bothered to check. In each case of a "nuclear verdict" against a trucking company, some element of negligent entrustment was present, and the driver was not qualified to operate the vehicle.
Talk to a Florida Trucking Company Negligence Attorney 
If you've been injured due to a negligent truck driver or lost someone that you love, call the Coral Gables tire defect attorneys at Halpern, Santos & Pinkert today to schedule a free consultation and learn more about how we can help.
Source:
esrcheck.com/wordpress/2021/08/25/jury-verdict-1-billion-negligent-hiring/