Tire Blowout Causes Rollover Crash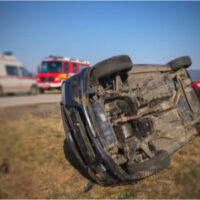 A tire blowout on I-75 caused a rollover crash according to highway patrol. The driver was the only individual involved in the accident and was taken to the hospital after suffering injuries. Rollovers are especially dangerous for a number of reasons and tire blowouts that result in rollovers are even more dangerous. A witness to the crash said the driver was able to make it to the shoulder, but his vehicle was wobbling after the blowout and eventually, it flipped "three or four times".
Tire Pressure and Weather
As we enter the winter, weather becomes an important factor in driver safety. While Florida is not known for its harsh winters, even a ten-degree drop in temperature can result in a driver losing one to two pounds of tire pressure. While we don't face below-zero temperatures in the Sunshine State, the weather will get colder during the winter. This can cause tire problems for those who keep their tire pressure on the borderline between acceptable and dangerous. So it's something to watch out for this winter.
Rollover Accidents
Rollover accidents can be dangerous for a number of reasons. Certain types of vehicle, namely full-size SUVs and pickup trucks can be extremely heavy. When they flip over, all the weight of the vehicle is placed on the cabin. Several lawsuits have been filed in recent years against auto manufacturers whose cabins are crushed beneath the weight of the vehicle. Almost all of these are wrongful death lawsuit.
Who's Responsible for the Accident? 
There isn't enough information from the article to draw a conclusion as to liability. Tire accidents happen for a wide variety of reasons and one of those is operator error. If the driver isn't properly maintaining the air pressure and drives the vehicle after a noticeable loss of air pressure, they are putting their life in danger as well as the lives of other drivers on the road. While this accident only involved the driver, it could have very easily taken collateral damage.
There are other possibilities, however. It could also be that the tire had a manufacturing defect that failed to be caught by quality control. If that's the case, then the tire company would be liable for the driver's injuries. Additionally, it may be an auto shop that failed to install the tire properly leading to the blowout.
Lastly, it's possible that a road condition or pothole led directly to the tire being damaged. This is a much trickier lawsuit to win because you're filing it against whichever municipality had control of the roads at the time of the accident. You would then have to prove that they left the dangerous condition unfixed for an unreasonable amount of time, leading to an inevitable accident.
Talk to a Defective Tire Attorney Today
If you've been injured in an accident involving a defective tire, the Coral Gables tire defect attorneys at Halpern, Santos & Pinkert can help you recover damages regardless of who is at fault. Talk to us today for a free consultation.
Resource:
nbc-2.com/story/41351406/tire-blow-out-causes-rollover-crash-on-i75
https://www.tiredefectattorney.com/tire-failure-blamed-for-fatal-rollover-crash/