Truck Loses Cinder Blocks After Tire Blowout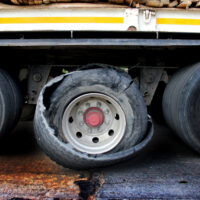 A commercial truck hauling cinder blocks lost some of its cargo after a tire blowout accident on the U.S. 119 forcing a section of the highway to shut down for a short period of time. First responders were able to take care of the problem and all four lanes of the highway were back to normal within an hour.
Nearly 100 blocks were dumped onto the road, but most of those found their way onto the median. Those who understand tire blowout accidents should not find this surprising. Typically, when a tire blows out, the driver tries to overcompensate in the opposite direction to which the car is pulling. This often makes matters considerably worse.
Luckily, no one was injured, but some cars were damaged by the cinder blocks left on the road.
Liability in an Accident Like This
It's a good thing for the truck driver and their company that no one was seriously injured. They very easily could have been. It appears that the tire blowout caused the driver to lose control of the truck at which point the truck lost control of the cinder blocks. If the cinder blocks had fallen on someone's car and seriously injured or killed them, both the driver and his company would have been in serious trouble.
Here's why. There were two potentially criminal elements to this incident that could have been prosecuted if someone was injured. Firstly, the tire blowout itself indicates that the driver or his company did not perform the required inspection on the vehicle before it left for delivery. Additionally, drivers are expected to perform routine inspections after every 24 hours while out on delivery. Failure to do so has resulted in criminal charges in the past, especially when someone is killed. There are currently several truck drivers scattered across the nation who are facing negligent homicide charges related to their failure to perform safety inspections on vehicles that were implicated in deaths.
Secondly, the loss of the cinder blocks is a serious problem. Trucks shouldn't lose their cargo if that cargo is properly distributed and safeguarded. In this case, it wasn't and that's why it ended up scattered across the road and blocking three lanes of traffic. Indeed, there is no good reason for a truck to lose any of its cargo unless it's completely capsized, which doesn't appear to be the case with this accident.
In other words, if anyone was seriously injured or killed in this accident, not only would the trucking company be on the hook for a wrongful death lawsuit, but the driver would be as well. The driver could also face criminal charges related to their failure to follow federal regulations related to highway safety.
Talk to a Defective Tire Attorney in Florida 
If you've been injured in a trucking accident or lost someone you loved, the Coral Gables tire defect attorneys at Halpern Santos, & Pinkert can hold the negligent party accountable and recover significant damages. Talk to us today for a free consultation.
Resource:
coalvalleynews.com/news/truck-loses-block-on-u-s-after-tire-blowout/article_78a6fb27-bb1d-5838-b7ae-495432d95430.html
https://www.tiredefectattorney.com/truck-accidents-and-tire-failure/