Woman Sues Truck Companies After 66 Vehicle Pile-UP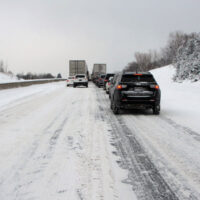 A woman is suing two trucking companies and an SUV driver after an accident that caused a 66-car pile-up in Nebraska. The woman claims that the trucks were going too fast for the conditions. A winter storm had been moving through Nebraska the day of the crash. The pile-up closed a 1-mile stretch of highway along I-80. One individual was killed in the accident and another died of a heart attack while caught in the traffic jam. Twenty-two individuals sustained serious injury as a result of the accident.
The plaintiff 
According to the lawsuit, the plaintiff was driving a Jeep that was struck by multiple trucks. She was trapped inside of her vehicle for six hours and required an emergency procedure to open an airway before she could be evacuated and taken to the hospital. The woman suffered multiple fractures. After an investigation, the state declined to file criminal charges but issued citations to several truckers who are alleged to have been following too closely or driving too quickly. The plaintiff is seeking over $750,000 in damages for injuries suffered, medical expenses, lost wages, and the trauma of being trapped in her car for six hours.
The defendants 
Trucking companies are liable when their drivers commit some form of negligence that injures other drivers. However, chain reaction accidents that involve 66 other vehicles can be difficult to sort out. Let's say that an accident occurred up the road and traffic is stopped. You stop along with it. Then, another vehicle enters the fray rear-ending your vehicle and sending you to the hospital. In that situation, the first two vehicles wouldn't impact your case. Only the third one would. Now multiply that by 66 and you begin to understand the level of complexity involved in a lawsuit like this.
Individual allegations against individual drivers were not a part of the article, so it remains unclear whether or not the driver has filed suit against the correct defendants. Chances are good, however, if one of the defendants are one of the same truckers who were issued citations for speeding, that the trucking company and their insurer will quickly move to settle. In other words, it's impossible to analyze the merit of her complaint without understanding the specific allegations made against the specific truck drivers that are being named in the lawsuit.
This is where a personal injury attorney makes their money. When it's difficult to determine which individual committed specific infractions that result in liability, we hire accident reconstruction specialists to analyze the wreckage and provide a theory as to how the accident occurred. This is cross-referenced against witness statements, police reports, and more, and together, they provide juries with a clear picture of why the other parties are responsible.
Talk to a Florida Commercial Truck Accident Attorney Today 
The Coral Gables tire defect attorneys at the office of Halpern, Santos & Pinkert file auto liability lawsuits against commercial trucking companies. We have recovered millions for our clients and have the litigation experience you need to win huge verdicts. Call today to schedule a free consultation, and learn more about how we can help.
Source:
cdllife.com/2021/woman-involved-in-deadly-66-vehicle-pileup-in-pennsylvania-sues-multiple-truckers