Yet Another Slowed Traffic Truck Accident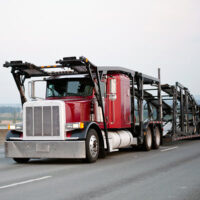 The National Transportation Safety Board (NTSB) has launched an investigation into why yet another truck managed to drive directly into slowed traffic ahead. This is becoming a recurring story. Traffic slows up ahead, usually due to heavy traffic, an accident, or construction, and despite the fact that the vehicles are moving slowly or not at all, the driver of the truck manages to slam into them. There are precious few scenarios in which such an accident is not the fault of the driver who rear-ended the other drivers. This was just such the case in a fatal multi-vehicle accident caused by a truck driver.
All told, six children died in the crash.
What happened?
Traffic had slowed due to a series of minor crashes when a Volvo tractor-trailer carrying an empty auto transport blasted into the back of a Ford pickup truck sending the truck sailing into a transit van carrying ten people. A second truck entered the fray striking several of the cars and shortly thereafter, both trucks burst into flames engulfing the van. Two died in a Ford Explorer while eight died in the transit van.
The NTSB is conducting an investigation into what caused the crash while Alabama authorities conduct an investigation into whether or not criminal charges are appropriate. Lawsuits against both trucking companies allege negligence in failing to stop in time for slowed traffic.
Why do truck rear-end accidents occur? 
They occur simply because the driver fails to stop in time because they don't know what's in front of them, usually due to some form of distraction. Large trucks take much longer to stop than your typical commuter vehicle and thus the reaction time of the driver has to be way ahead of time. That takes total concentration on the road. If you're five seconds away from hitting a vehicle while going full speed in a tractor-trailer, everyone in front of you is five seconds away from a trip to the hospital. It takes longer to correctly predict the slowing of traffic because the brakes won't halt the vehicle right away.
So, in every case you can think of, the reason why the truck driver didn't stop is that they failed to identify the slowed or stopped traffic in time and hit the brakes too late.
Rarely, however, these sorts of accidents are related to brake failure. If the truck's brakes fail while the driver is attempting to brake, then you can see a similar type of accident. These are rare, but the trucking company is expected to ensure that the vehicle is roadworthy prior to placing it into traffic. Brake failure would thus also be the responsibility of the trucking company.
Talk to a Florida Truck Accident Lawyer Today 
The Coral Gables tire defect attorneys at Halpern, Santos & Pinkert handle plaintiff's claims related to commercial truck accidents. Call today to schedule a free consultation and learn more about how we can help.