Blown Tire Blamed in Fatal Crash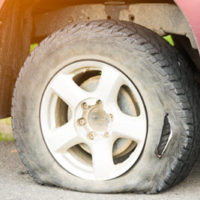 The 35-year-old driver of a dump truck was killed after the tire of his truck blew out resulting in a fatal crash. Sherrod Percell was driving on I-65 in Tennessee. The blowout caused the driver to lose control of the vehicle. He ended up veering off the road and his truck rolled over several times before finally coming to a halt.
Tire-related accidents involving dump trucks are not uncommon. Large vehicles typically require larger, more complex tires that are responsible for carrying heavy loads over great distances. When the tire blows out and the vehicle is in motion, it is not uncommon for the driver to lose control of the truck causing the vehicle to roll over. These accidents often have tragic results as the one mentioned above.
Are Retreads to Blame? 
If you think the cost of a new tire on your car is expensive, then you should see what the bill looks like on a commercial-grade tire that is responsible for hauling five-ton loads. For that reason, retreads are commonplace when it comes to commercial tires. While there are some who believe retread tires are intrinsically dangerous, recent data has shown that retreads are every bit as safe as the original tire. There again, however, it depends on the quality of the workmanship on the retread.
Are Regrooved Tires to Blame? 
Retreads often get blamed for accidents that are actually caused by regrooved tires. Regrooving is the practice of carving out the rubber in a tire to give the tire better friction. This, again, is a way to get more miles out of the tire and save costs. But is it safe?
This is where the controversy comes in. Regrooving tires is not, theoretically, a problematic process. Nonetheless, it can be dangerous when it is not done correctly. Furthermore, the stakes are very high when it comes to tires. If the regrooving process makes the tire less stable or makes it easier for the treads to separate, then the results are often deadly.
Regardless of whether or not the practice is safe, it is not uncommon for commercial trucking companies to regroove tires as opposed to replacing them. Not only does this put the truck's driver at risk, but it can also put other motorists on the road at risk.
Federal Laws Concerning Regrooving Tires 
There are specific regulations that govern the practice of regrooving tires. These can be found in 49 CFR § 569.7. According to the statutes, it is unlawful for anyone to "offer or sell" regrooved tires by "removing rubber from a worn tire to produce a new tread pattern." This same statute applies to anyone who is regrooving their own tires for the sake of engaging in interstate commerce. In other words, no one is allowed to shave off any of the rubber on their tire in order to prolong the life of the tire if they are engaging in any kind of interstate commerce.
There are, however, some tires that are marketed as "regroovable". Federal statute stipulates that these tires must be marked as such and that a strict process must be adhered to. There is still some question as to whether or not these regrooved tires present a safety hazard.
Talk to the Truck Tire Litigation Attorneys 
The legal team at Halpern, Santos & Pinkert in Florida represents those injured by careless regrooving practices. If a tire blowout caused your injuries, give us a call or talk to us online.
Resources:
law.cornell.edu/cfr/text/49/569.7
columbiadailyherald.com/news/20190131/blown-tire-leads-to-fatal-i-65-dump-truck-crash