Ford Issues Three More Recalls in North America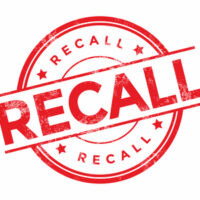 Cost-cutting measures alongside increasingly complex technology have resulted in an uptick in the number of auto recalls this year and that looks set to continue into the future.
In this article, we'll take a look at some of the newest Ford recalls.
700,000 Vehicles Recalled Over Faulty Rear Camera
Ford announced the recall of over 700,000 vehicles related to a faulty rearview camera. This recall concerns most of the 2020 models of the F-150, Escape, Explorer, Mustang, Ranger, Expedition, Edge, and their Super Duty pickups.
Ford says that the faulty cameras can sometimes cause the screen to display distorted imagery or nothing at all. The reference number for this recall is 20C19.
40,000 Mustangs Recalled Over Faulty Brake Pedal Bracket 
Ford issued another recall related to Ford Mustangs built at their Flat Rock Assembly plant from 2019 to 2020. The defect results in the fracturing of a brake pedal bracket. The reference number for this recall is 20S52.
10,000 Ford F-series Super Duty Recalled
Lastly, 10,000 Ford F-series Super Duty trucks have been recalled. It is believed that a poor welding job can impair vehicle control and increase the likelihood of a crash. The recall reference number is 20S56.
Class-Action Lawsuits and Personal Injury Lawsuits
Confusing as the law sometimes can be, it's the most confusing where you have terms that are commonly used on television and in movies. For instance, we hear a lot about class-action lawsuits filed by vehicle owners over some alleged defect. The owner brings their vehicle to the dealership complaining of a problem, but the dealership blames the problem on their poor driving and refuses to fix it. The owner then only has the option of filing a consumer lawsuit against the company to force them to either reimburse the cost of the car or fix the alleged defect.
However, when there are a number of people injured by the same defect, they can form an entirely separate class to file a lawsuit related to their personal injury. In the case of Takata Corp. and their exploding airbags, there were enough people injured and enough family members who lost loved ones, to file a class-action lawsuit on the theory of personal injury liability. This is a completely different type of lawsuit.
Personal injury lawsuits are based on the theory of torts. Essentially, a plaintiff argues that a defective product or component malfunctioned resulting in physical, financial, or emotional injury. Almost all of these lawsuits regard physical injury.
In a suit alleging product liability, the plaintiff would not need to prove that the company was negligent. They only need to prove that in the anticipated use of the company's product, it caused a purchaser injury.
Talk to a Defective Auto Parts Attorney Today 
If you've been injured after an auto vehicle part malfunctioned, you may be able to sue the company that manufactured the auto part. Call the Coral Gables tire defect attorneys at Halpern, Santos & Pinkert today to schedule a free consultation and discuss your situation.
Resource:
news.yahoo.com/ford-recalls-more-700k-vehicles-112911743.html?guccounter=1&guce_referrer=aHR0cHM6Ly93d3cuZ29vZ2xlLmNvbS8&guce_referrer_sig=AQAAAIh3VKNJpFaFILSWsxg10YnBJWBQP2n7_9JViAoVjagcqj04Z16WIo0DqA2sgK8bK4Iu9DN6Xnmc6yBQYHaA2Z5kSnoj_Nkbr3rQYfHVFMbyqHpGL_OWu120HnkVQVFnnPOk0F2i7LbD3cxlxWlhgdg0Fz5Ko_EsZlvYHC_efLvT
https://www.tiredefectattorney.com/new-bill-prevents-gsa-from-selling-recalled-vehicles/